I was out walking my dog yesterday. On lead. Urban streets. She's a friendly, well behaved dog. She didn't spot the dog about 60 yards away the other side of the road, but I did. I stopped. THAT other dog had not only spotted my dog at that distance, she was rigid, right out on the end of her lead, owner in tow. The dog's expression was hard, her whole body was tense and it said 'Don't you come near me! I'll have you if we get any closer!'  The owner, on her phone, seemed blissfully unaware. Mrs Oblivious. By now my dog had noticed them and was looking in their direction, tail waving, interested, and friendly, if a wee bit unsure. Mrs Oblivious didn't notice me making sure my dog made a good decision to break off looking at her dog, to turn and move away behind me as I moved calmly into a gateway to be as far away from them as I could be.
Owner and dog, pulling against each other, the other side of the road, managed to get past me and my dog. I could see her dog's body relax a bit as they got past and off they went on their not-so merry way.
I wonder how often that dog had been forced to walk past or close to another dog it didn't want to? I wonder how many dogs had been on the receiving end of that threatening glare and tension? All my experience told me that dog was not wanting to be friends. I have worked with enough dogs that are aggressive towards other dogs to know the difference between the ones that mean business, and the ones that don't. This one meant business.  I didn't want her to get any closer that's for sure!
It's baffling how some people don't see how damaging it can be to ignore what their dog is telling them and want to force them into situations the dog is so obviously deeply unhappy about.  More worryingly though, is how potentially dangerous it can be. The lead only needed to break, or be pulled out of the owner's hand, for that dog to be running across the road and reach my dog.
Try this analogy for size…
You are a passenger in a car driving along a motorway. Of necessity, you put your trust in the driver to get you home safely since he is in charge of which direction you go, and what speed you travel at.
A few hundred yards ahead of you see some blue flashing lights. Small, insignificant lights to start with, but enough to put you on alert because you have, unfortunately, been involved in a crash before, so you know it can end badly. You tense. You can feel your foot anticipating the need to push on the brake pedal. Your hands clench slightly. Your heart-rate has gone up a tad. You want to be sure the driver has seen them. 'Whoa! Slow down a bit! I think there's something wrong up ahead!' Nothing happens. He is oblivious to what you are saying, whistling along to the music on the radio, not paying much attention to the road, or you. Your alarm increases as he keeps driving inexorably closer to what to you is looking like a major hazard. Stressville!! Panic is kicking in. He squeezes past the pile-up without incident. Just. But it's a close call and you feel you were just a whisker away from death!  Still blissfully unaware or uncaring that your heart rate has rocketed, or you were trembling in fear, he carries on. Still whistling along with the radio. That you have just experienced the very real stress and tangible fear that can arise from the anticipation of disaster, and a near miss, seems not to concern him one iota.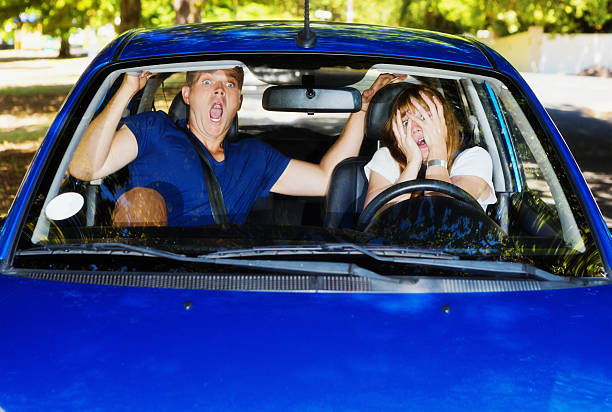 If you knew you could trust him to never to crash the car, and knew his judgement was always spot on, maybe you would panic less, but you know from past experience you can't always trust him, or other drivers, to exercise good judgement.
This is exactly what some people, like Mrs Oblivious, do every day when they take their dogs out. Hanging on to the lead, supposed to be in control, as they move unerringly towards a potentially dangerous situation, paying little or no attention to what is going on. Blissfully unaware of the stress and anxiety he or she is causing their dog.  When your dog says 'whoah!' you really ought to notice and heed that early warning.   Slow down. Take a good look before carrying on. You may even need to stop. Your dog might be wrong about the risks in getting too close to that other dog across the road, but she may well be right. She may well be better at reading other dogs than you are, and may be a better judge of the situation. She may be paying more attention than you! Her experience and history could well be that she knows she can't trust the judgement of a human holding the other end of the lead. She might well have learned, as this dog seems to have, that pulling towards other dogs, looking fierce and in a threatening way, is an effective way to make sure other dogs back off. Getting in with a preemptive attack isn't unusual in a dog that is forced into close encounters by an unwitting owner.
As for Mrs Oblivious? Well, fingers crossed she doesn't find out the hard way just what her dog is telling her. She was like that driver, blissfully unaware of what was going on, so completely oblivious to the risks she was taking. I hope I don't meet them again. Scary.